We Provide Durable Metal Studs for Reliable Construction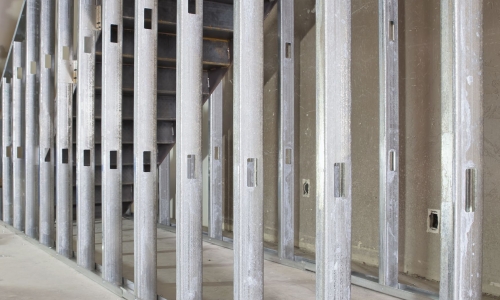 Durability is crucial for any building project, and State Building Products can provide high quality metal studs for your construction project. Each metal stud is specifically crafted from a long sheet of steel, giving you customizable options for a strong frame that will provide the strength and durability needed for even the biggest projects. State Building Projects will work with you to make sure get quality construction to your exact specifications. Read below for more information about the advantages of using Metal Studs for your next building project.
Advantages of using metal studs for your building project
Metal studs provide unmatched durability for building products of all sizes. There are many advantages to using metal studs that you cannot get from other materials. There are significant construction and design advantages to using ProSTUD® products from our experienced professionals at State Building Products.
Construction Advantages
Increased strength and greater height limiting through strong steel combined with flange stiffening grooves and double offset web planking
Reduced flange fade and screw spinout during installation from diamond embossed web
Easier handling strong, lightweight stud and track cuts
Easier to maintain the 3/8" edge requirement with flange grooves that provide a sight line for aiding in alignment and the position of screws at drywall joints
Design Advantages
These metal studs are designed to meet the most up-to-date building codes: IBC 2003, 2006, and 2009, AISI NASPEC (S100), ICC-ES AC86 (2010)
UL Classified and listed in over 50 designs, including U419, V438, and chase wall assemblies
Tested in more than 50 sound assemblies for exceptional sound performance
Can contribute up to 7 LEED® Credits under LEED for New Construction and Major Renovations (LEED-NC Ver. 2.2 and 3.0)
You can complete your project to your exact specifications with high quality metal studs from State Building Products. Available in multiple web width, thicknesses, and other options, our studs give you the flexibility to find the perfect product to properly complete your building project. State Building Products offers the best metal studs to give your building the durability and longevity it needs to stand up to even the strongest winds.
State Building Products takes great pride in providing the best quality metal studs for successful building projects. Our experienced staff are dedicated to adding to our long list of satisfied customers and successful projects, so call us today and find out how State Building Products can assist you with metal studs for your next building project.