Restructure Wall Frames with Strong Structural Steel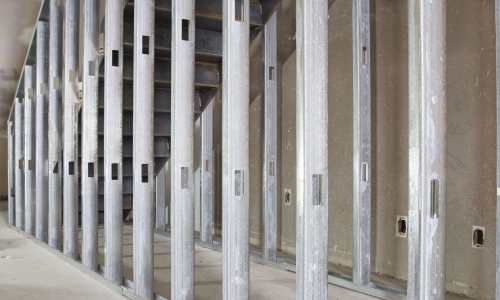 If you're in the business of building renovation or restructuring, strong steel wall frames provided by State Building Products can be just what you need to perfect projects. State Building Products has provided structural steel for a large variety of building types, so whether you're restoring or renovating a school building, business structure, medical facility, or any other building that might need stronger wall frames from a professional steel supply company, we've got your back.
Prevent accidents
When restructuring a building and making the decision of what kind of framing you want to work with, a steel framing system from State Building Products can help prevent fire-related disaster within your building. Our steel framing, when compared to similar styles of wood framing, has a reduced likelihood of fires before and after construction is complete. So, whether you have a lot of electrical wiring that needs to be ran through walls or would just like complete peace of mind alongside your strong wall frames, a galvanized steel frame from State Building Products is the obvious choice.
Gain resiliency
Compared to traditional wood framing, steel wall frames can provide your rebuilding project with the extra resiliency it needs to last for many years to come. Manufactured for dependable sturdiness, State Building Products' structural steel is the strong component that you can count on. And, with the different capabilities we offer, your framing system can get all the different sizes and shapes of cut steel that it needs to ensure the sturdiest possible finished product.
Offering some of the highest quality steel products at some of the best prices, State Building Products continues to be your best choice of steel supply. If you have a renovation project in need of new wall frames, check out or site or contact us today, and find out how our steel products can help!