Make a Commitment to Better Builds in the New Year with a Steel Framing System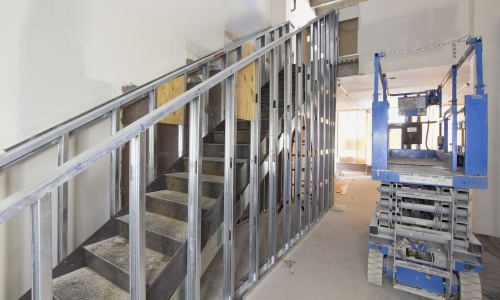 With a New Year starting and new business opportunities on the horizon, your construction company can make a commitment to stronger builds through the use of a dependable steel framing system from State Building Products. Whether you have worked with other materials in the past or have gotten steel from a different source and are looking for a new, trustworthy supplier, you can depend on the team at State Building Products to give you all the materials you need to complete construction the right way.
Materials for inside and out
Although the steel framing system from State Building Products is typically used for exterior framing, our steel supply can also be used for interior framing when walls will be known to carry a load heavy than what drywall is capable of handling. The name of the game with our galvanized steel is strength, so, whether you need dependable, strong support for the outside structure of your building or for interior parts of your build, you can count on the steel framing system provided by State Building Products.
Personalized steel framing system
When you decide on a steel framing system from State Building Products, you are investing in steel that can be cut and formed exactly how you need it for the framing of your construction project. With different sizes available for gauge widths and framing members, your structural components are versatile for your build's needs. We care about our customers at SBP, and our dedication to ensuring you have the exact framing that you need for your construction is one way that we provide an excellent experience for everyone who works with us.
With decades of experience working in the steel supply industry, State Building Products has all the products and capabilities you could want out of a supplier of steel framing systems in the New Year. Contact us soon to get the steel products you need for your construction project.